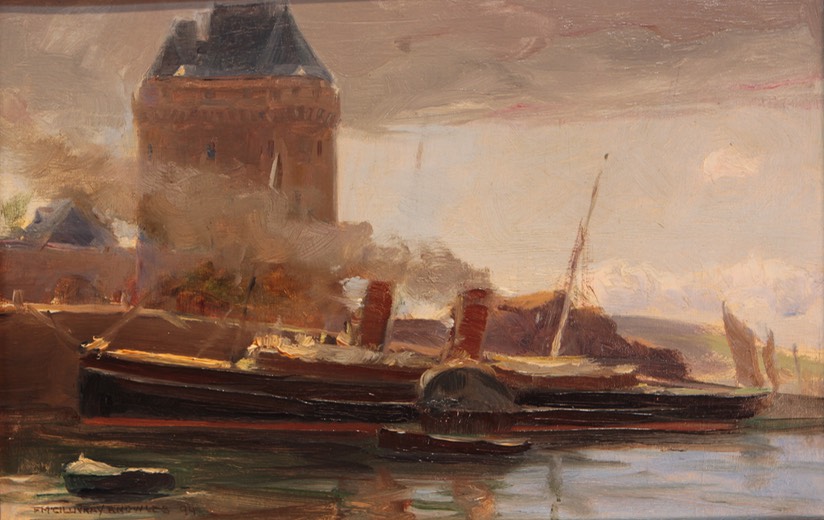 Farquhar McGillivray Knowles was born in Syracuse, NY in 1859. While a child his family moved to Quelph, Ontario Canada. Through encouragement by his grandfather Knowles pursued a military career at West Point Military Academy in Virginia. In his 4th year he suffered a serious accident which put an end to any possibility of military service. This event changed the course of his life and started his life long pursuit of art.
 Knowles moved to New York where he studied art with William Merritt Chase, while finding found retouching photographs. He returned to Canada where he found employment with the William Notman and John Fraser photographic studios in Toronto. He added colour to their portrait photographs of wealthy customers. The studio's co-owner was John A. Fraser, R.C.A., an accomplished watercolour artist, who instructed him in painting miniatures and watercolors.
In 1889, Knowles was elected an Associate of the Royal Canadian Academy (RCA). Still early in his career, in 1893 he exhibited a painting at Canada's pavilion at the Chicago World's Fair.
After the death of his first wife, Ada Cullen, Knowles married Elizabeth Beach, a fellow artist and student. She was also the neice of Canadian artist Frederic Bell-Smith. The couple spent two years in London, followed by four years in Paris, studying at the Academie Julian under well known artists Jean Paul Laurens and Benjamin Constant. The couple travelled to all parts of Europe, including the not yet identified location of our painting.
After returning to Canada, Knowles and his wife opened an art academy specializing in painting, design, ceramics and life classes. The couple's spectacular studio became the centre of an artistic social circle. They were known to keep an  "open-house" to Toronto's artist community.
In 1916 the Knowles spent a year painting the New York harbour from his yacht, later moved into the city itself. He returned often to Canada, participating in important exhibitions including RCA  and Ontario Society of Art (OSA) annual shows.
Knowles was best known for his atmospheric harbour and marine paintings. The moody colour and brushwork was influenced by impressionism though tempered by Aesthetic movement sympathies.
Knowles passed away in 1932.