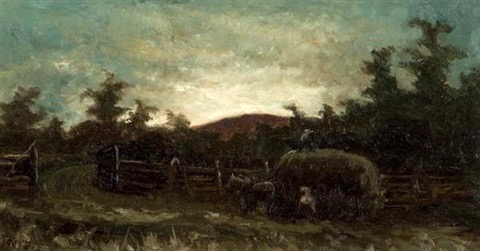 Painting Details
In 1882, Reid first showed a painting at the RCA titled the Last Load. His biographer, Muriel Miller, states that "The Last Load is a study of rural life and might have even been a transcript of the Twenty-Six dollar load which had paid his way to Toronto in 1878". This relates to the story that his father sold a load of hay for twenty-six dollars and gave this to Reid to help him get set up in Toronto. 
To date, we have not been able to locate an image of this painting. The painting was owned by Thomas Mower Martin, a friend and colleague of Reid. This is not the finished painting that is in his catalogue raisonne as it isn't as large and is stated to have been painted in 1885. There is a note in the catalogue about a small study being done of this painting, but the size isn't listed. We believe that since he displayed The Last Load at the RCA in 1882 and at the Pennsylvania Academy exhibit in 1884 and that is said to be a small study, that our painting is that study. 
A national Canadian art expert supports this attribution. The painting has been studied as a rare example of an early Reid painting, as well as having an early signature style. Gallery testing confirms that the painting is done without an underdrawing, unusual for his pre-Pennsylvania years. At the time of this painting Reid was training with Robert Harris, a strong beleiver in the training methods taught by Reid's teacher Thomas Eakins. 
Biography
George Agnew Reid was born in 1860 to a farming family in Wingham, Ontario. He showed an early interest in art and eventually, despite his father's initial disproval, became an art student under Robert Harris at the Ontario School of Art in 1879 in Toronto. Reid also studied at the Pennsylvania Academy from 1882 to 1885 where he was a protégé of American Realist Thomas Eakins and met his future wife Mary Hiester Reid, also a well-known artist. Her florals drawing much attention, including from the artist Lucius O'Brien. 
Reid also studied at the Julian, with Jean-Joseph Benjamin-Constant, and at the Colarossi Academies in Paris, and the Prado in Madrid (1888–89). He made a number of study trips to Europe, during which he visited France, Italy, Spain and Portugal. It was during this time that Reid turned from portraiture to genre, as in The Foreclosure of the Mortgage (1893), making his name with narrative pictures. Reid brought Parisian Academy precision to emotional genre paintings of Ontario.
Reid's first exhibition was in 1888 at Oliver, Coate & Co. in Toronto, followed by an exhibition in 1894 with five American painters at American Art Galleries, New York. Reid became the first principal of the newly formed Ontario College of Art in 1912, and continued in the post until 1918. He was commissioned as a war artist in 1918, and designed a new building for the Ontario College of Art in 1920. He became a member of the Royal Academy of Arts in 1889, and later served as its president. After his retirement from the College in 1929, Reid painted many murals for public and private collections, such as the Jarvis Collegiate and the Royal Ontario Museum of Paleontology. His work is held in public collections across Canada including the National Art Gallery and the Art Gallery of Ontario. Reid died in Toronto in 1947.