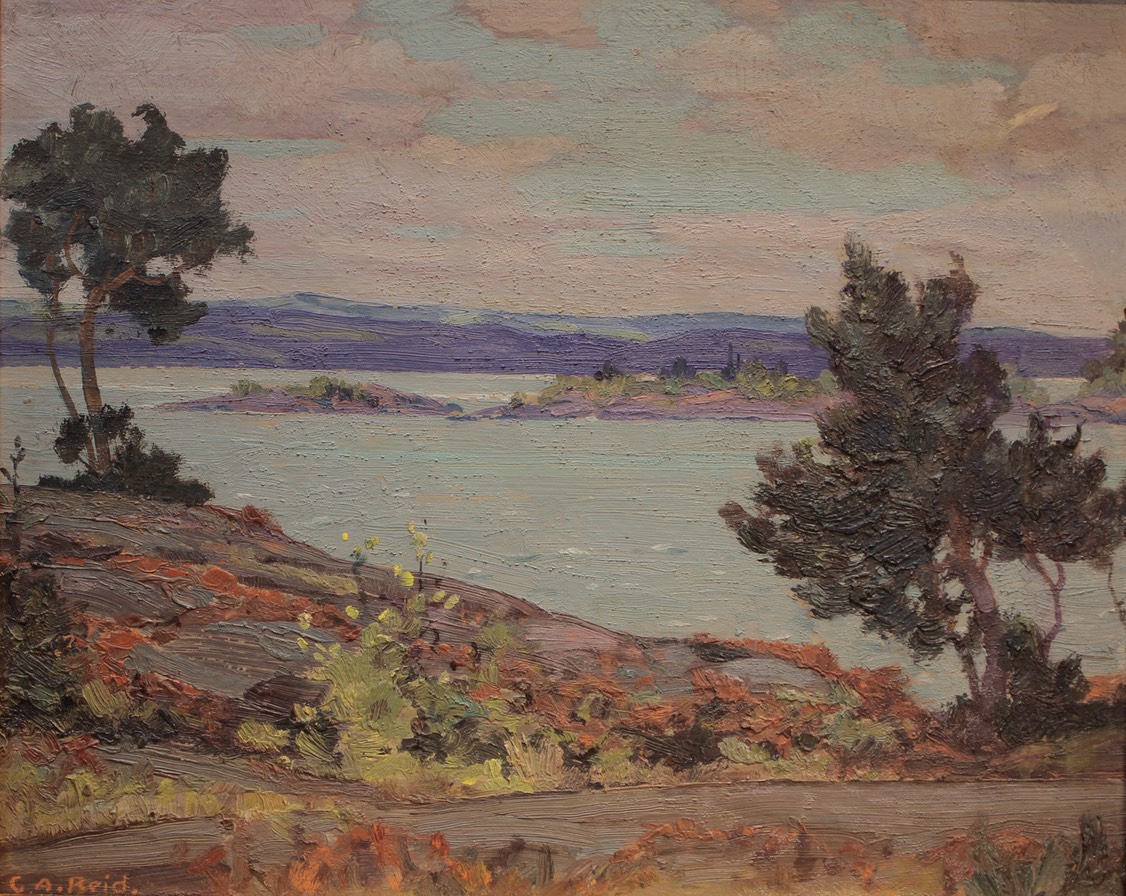 Michipicoten Bay is listed in George A. Reid's Catalogue Raisonne
Reid and his 2nd wife Mary Wrinch travelled to this part of Algoma quite often to paint. This was also an are frequented by the Group of Seven. In this year in particular the governement was offering cabins to artists to come and paint. Reid and Mary had two companions stay there at the time. One was Frederick Challener and the other Frederick Brigden. Two artists we also have represented in our collection. 
George Agnew Reid was born in 1860 to a farming family in Wingham, Ontario. He showed an early interest in art and eventually, despite his father's initial disproval, became an art student under Robert Harris at the Ontario School of Art in 1879 in Toronto. Reid also studied at the Pennsylvania Academy from 1882 to 1885 where he was a protégé of American Realist Thomas Eakins and met his future wife Mary Hiester Reid, also a well-known artist. Her florals drawing much attention, including from the artist Lucius O'Brien.
Reid also studied at the Julian, with Jean-Joseph Benjamin-Constant, and at the Colarossi Academies in Paris, and the Prado in Madrid (1888–89). He made a number of study trips to Europe, during which he visited France, Italy, Spain and Portugal. It was during this time that Reid turned from portraiture to genre, as in The Foreclosure of the Mortgage (1893), making his name with narrative pictures. Reid brought Parisian Academy precision to emotional genre paintings of Ontario.
Reid's first exhibition was in 1888 at Oliver, Coate & Co. in Toronto, followed by an exhibition in 1894 with five American painters at American Art Galleries, New York. Reid became the first principal of the newly formed Ontario College of Art in 1912, and continued in the post until 1918. He was commissioned as a war artist in 1918, and designed a new building for the Ontario College of Art in 1920. He became a member of the Royal Academy of Arts in 1889, and later served as its president. After his retirement from the College in 1929, Reid painted many murals for public and private collections, such as the Jarvis Collegiate and the Royal Ontario Museum of Paleontology. His work is held in public collections across Canada including the National Art Gallery and the Art Gallery of Ontario. Reid died in Toronto in 1947.