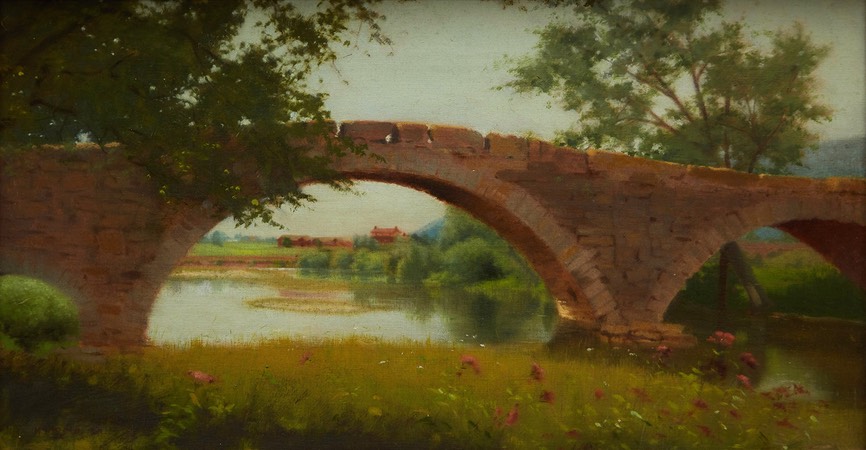 Mary Hiester Reid was born in Reading Pennsylvania.  Reid's father died when she was an infant, in 1863 her mother took Mary and her sister, Caroline, to live with relatives in Beloit, Wisconsin. Her mother died young as well in 1875. Mary returned to Reading PA where she lived with her cousin's family.
She then attended the Philadelphia School of Design for Women from 1881–83 and the Pennsylvania Academy of the Fine Arts in 1883–85. This is where she was to meet her future husband, the artist George Reid, who we also have work by in our collection. Her teachers at the Academy were Thomas Pollock Anshutz and Thomas Eakins. In 1885 her and George Reid were married.
The Reids honeymooned in Europe for four months, visiting London, Paris, Italy, and Spain. On their return they settled in Toronto and established a studio and gave art lessons. The couple moved in 1907 to Upland Cottage, a house designed by George Reid in Wychwood Park, a pastoral community north of Toronto that would soon to become an artist gathering place. This was also the community where Marmaduke Matthews lived.
In the spring of 1888 an auction of both their work raised enough money to finance a second trip to Britain and France, where Mary attended the Académie Colarossi in Paris, taking costume-study and life classes under Joseph Blanc, Pascal Dagnan-Bouveret, Gustave Courtois, and Jean-André Rixens. The couple then made an extensive tour of Gibraltar and Spain, which Reid wrote three articles in Massey's Magazine in Toronto. The Reid's would make two more trips to Europe, 1902 and again in 1910. The Reids also spent every summer from 1891 to 1916 at Onteora, a private literary and artistic club in the Catskill Mountains near Tannersville, N.Y., where they had a house and a studio, both designed on arts and crafts principles by George. They spent their time painting and teaching, their studio having accommodation for ten students, many of whom came from Toronto.
Reid had entered the artistic establishment of Toronto soon after settling there. Elected a member of the Ontario Society of Artists in 1887, in 1907 she became only the second woman to serve on its executive committee. She was elected an associate of the Royal Canadian Academy of Arts in 1893 (women at the time weren't allowed full membership) and a member of the Canadian Society of Applied Art in 1904. She exhibited in the annual OSA (Ontario Society of Artists) and the RCA (Royal Canadian Academy) almost every year between her arrival in Canada and her death, and participated in selected annual exhibitions at the Art Association of Montreal, the Women's Art Association of Canada, and the Canadian National Exhibition. She also showed at the Columbian exposition in Chicago (1893), the Pan-American exposition in Buffalo (1901), and the Louisiana Purchase exposition in St Louis (1904), with Mary Evelyn Wrinch at the galleries of the Art Metropole in Toronto (1912), and with her husband and Wrinch at the Royal Ontario Museum, in aid of the Red Cross Society during wartime (1915).
Many of her paintings were purchased by private collectors and others had been acquired by the National Gallery of Canada and the government of Ontario. In 1922 a large retrospective was organized at the Art Gallery of Toronto, the first solo exhibition given there to a woman, and it was enthusiastically praised in the press.