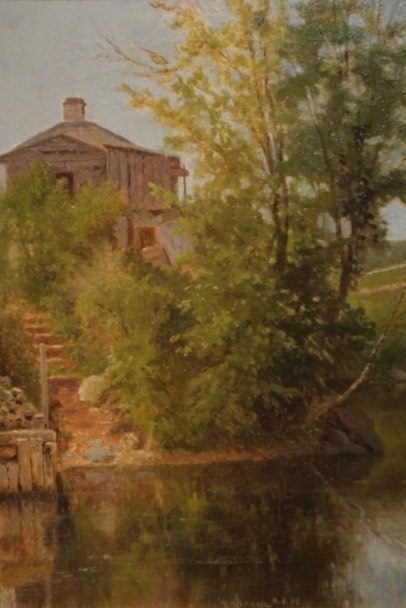 William Raphael was born in 1833 in Nakel, Prussia.  He studied painting at the Academy of Fine Arts in Berlin, under the portrait artist Johann Eduard Wolff. And later Karl Begas.  After his father's death in July 1856 Raphael, emigrated to North America. First to New York City then a few months later to Montreal, where one of his brothers lived.
Nine years after arriving in Montreal, Raphael painted his most famous painting, Behind Bonsecours Market, Montreal. Raphael painted himself into the painting, holding his hand-luggage in one hand and his portfolio and his family's ritual candelabrum in the other. This painting hangs in the National Gallery of Canada.
Raphael made his living mainly from painting portraits, including Canadian governors generals. These paintings were reported to have been hung in the Parliament Buildings in Ottawa. A photograph of a full-length painting, Gladstone and Laurier at Hawarden Castle, dated 10 July 1897, shows the two prime ministers arm in arm. The original has not been found; it and other paintings by Raphael may have burnt in the fire that destroyed the centre block of the Parliament Buildings in 1916. Raphael also painted numerous landscapes from his travels across Canada, the United States, and Scotland. He captured the quiet moods of natural environments at all times of the day. The quiet still moments, such as in our painting. In many works he included evidence of man's existence.
Raphael was a founding member of the Royal Canadian Academy of Arts in 1880. 
One of Raphael's greatest contributions was in the field of art education. He taught secondary-school level students and those aspiring to become professional artists. As early as 1866 he had advertised as a "teacher of landscape painting". He taught at the High School of Montreal and the Art Association of Montreal. When the Art Association opened its school in 1881, Raphael presented the first course in "Figure Painting and Drawing" to advanced students. In 1881-82 he also took over Allan Aaron Edson's class in "Composition and Landscape," as well as a course in "Figure Painting and Drawing from the Antique." Raphael was later replaced by the younger artists Robert Harris and William Brymner, who taught in the manner of the French studios. 
By 1885 Raphael had set up his own private school, offering drawing and painting to 30 pupils. Two years later he expanded his studio to accommodate two levels of students. Exhibitions of their work were favourably reviewed in Montreal newspapers by art critics who praised his proficiency as a teacher. Several of his students achieved renown including artist Wyatt Eaton, who had studied privately with Raphael in the 1860s. 
A member of the Art Association of Montreal from the 1860s, he was a founding member of the Society of Canadian Artists in 1867, a member of the Ontario Society of Artists from 1879, a charter-member of the Royal Canadian Academy of Art in 1880, an original member of the Pen and Pencil Club of Montreal in 1890, and a member of the Council of Arts and Manufactures of the Province of Quebec in 1904. He exhibited regularly with the Society of Canadian Artists, the Art Association of Montreal, and the Royal Canadian Academy, but only minimally with the Royal Society of British Artists (1877–78), the Ontario Society of Artists (1879, 1897), and the Pen and Pencil Club (1890–91). He was remembered as a kind, unassuming man, totally devoted to his art. He left a precious legacy of paintings, drawings, and sketches that record 19th-century Canada.