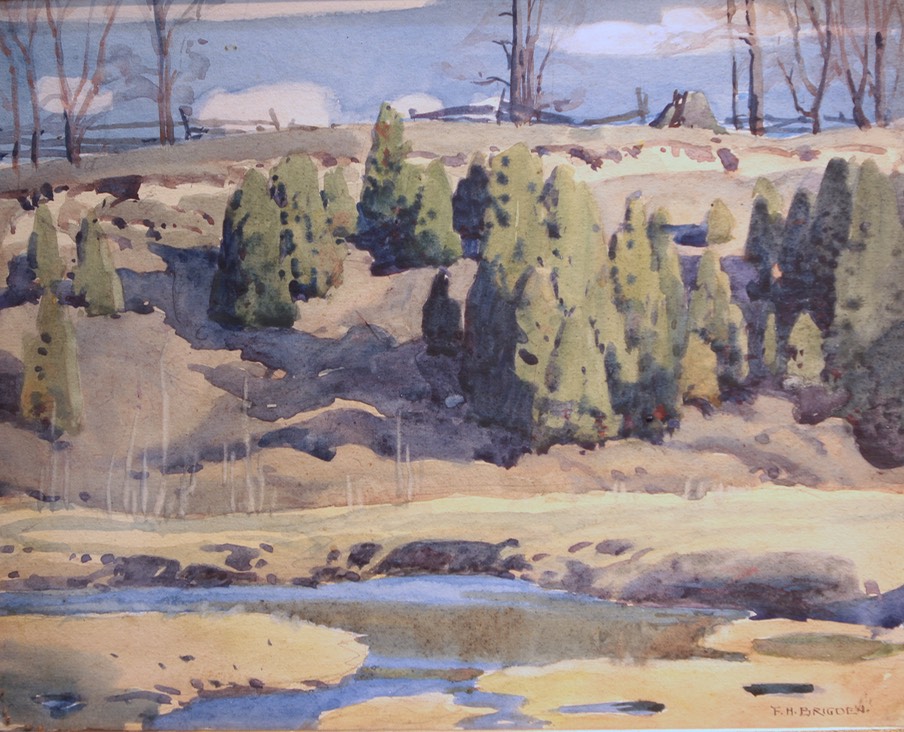 Frederick H. Brigden was born in London, England, but just eights months after this birth his parents emmirgrated to Canada, They settled in Toronto where his father went into partnership with the Beale Brothers to create the Toronto Engraving Company. 
Brigden always showed a talent for drawing so as a boy he received encouragement and instruction from his father. His first outdoor sketch completed at just age 12, which we will include a photo of soon, was done of the Winchester Street Bridge in Toronto already displayed a very mature skill and ability. He already understood perspective and how to capture the outdoors in pencil. Later, he attended the Toronto Art Students' League under the instruction of William Cruikshank and George A. Reid (paintings by this artist are also part of our collection). By age15 he was working part time at his father's firm. At age 17 he was ranked first in his class at school. A was a good athlete and played lacrosse for Junior Tecumseh's, but had to give this up when he became employed full time at his father's firm. 
About 1892 his illustrations started to appear in the Toronto Art Students' League Calendar, a prestigious art calendar started by artist Charles W. Jefferys. He also regularly attended the Mahlstick Club, a group of artists committed to enhancing their drawing skills but drawing at least 1 hour per day. They would then hold group shows of the work. This club included artists included J.E.H MacDonald, Robert Holmes, T.W. McLean, Neil McKechnie, A.H. Robson, W.W. Alexander, Frederick S. Challener (paintings by this artist also in our collection), and others. 
Brigden received most of his training in Toronto with the exception of a summer of 1910 when he attended a school in the Catskills under John Carlson of the Art Students' League of New York. Brigden continued to work full time engraving, but on weekends and evenings during the summer, between 1894 and 1906, he went painting with C.M. Manly making many trips to eastern Ontario, Quebec, and the Maritimes. 
Brigden painted traditional watercolour subjects until about 1906 when he made his first trip to the north country, where, in the words of J.E. Middleton, The general scene was big, swimming in air so clear that even far-off lines were definitive and distant colours vivid . . . . In 1910 he travelled to Europe and visited London, Manchester, and Brussels and in 1912 visited Buffalo, N.Y., where he saw the Scandinavian show which J.E.H. MacDonald and Lawren Harris had seen, however his paintings did not take on the same dedication to decorative style as had the work of Harris and MacDonald. He chose to stay closer to realsism, capturing the scene in his own way. In 1940 Liddell Franks in the Windsor Daily Star explained this aspect as follows, . . . Brigden himself did not come under the influence of the Group for he held to his belief that he should continue to paint nature realistically and to depict its more atmospheric aspects . . . . J.E. Middleton wrote, He preferred the lighter woodlands to the dark mystery of spruce and balsam. He looked with as much pleasure on rolling farm lands as on tumbled masses of rock. 
Brigden travelled to many parts of Canada including the rugged bush country of the northland. Like many other artist-woodsmen, he went by canoe, although he usually travelled in a party which often included his sister Miss Bertha Brigden. It was on a trip down the Mississauga River that the swift water dashed one of their canoes against a fallen tree causing the canoe and all their camping gear to be lost. Bertha was safely rescued from its swift waters, the same waters that in 1912 spilled Broadhead and Tom Thomson. Brigden also trav­elled to the Okanagan Valley in B.C., to Lake Louise and Outpost Lake in the Rockies, to northern Manitoba, then Ontario, particularly along the shores of Lake Superior down the Montreal River where J.E.H. MacDonald painted his famous canvas, Falls Montreal River, the Haliburton region, the eastern Townships of Quebec, and throughout the Maritimes including the beautiful Cape Breton Island. He sketched with T.W. McLean at Michipicoten Harbour in 1922, as well as in 1927 where he stayed with George A. Reid and Frederick S. Challener. Our George A. Reid painting of 1927 is from this trip. 
We would also like to note, that the Brigden company produced the Eaton's Mail Order Catalogue. Managing 40 staff, Brigden was still able to find time to follow his passion. A few artists in the RCA had opposed his entry into their ranks because he appeared to them to be more a businessman. However in 1934 he was elected ARCA, in 1939 RCA. He was very active in youth work and was President of the Toronto and District Football Association, Chairman of the Boys' Work Committee at the Central Y.M.C.A.; Honorary Vice-Chairman of a similar committee of the National Council of the Y.M.C.A. It was at a Y.M.C.A. Boys' Department art contest that he discov­ered the talent of a 14-year-old boy named Charles Fraser Comfort. Comfort was soon persuaded to come to work for Brigden's, doing something in which he was exceptionally gifted. 
Much of what we know today about Brigden was learned from the book by author J.E. Middleton in his Canadian Landscape as Pictured by F.H. Brigden, of which only a 1,000 copies were produced. We have one copy in our collection as reference. 
Frederick Brigden died on a sketching trip at Bolton, Ontario. His portrait was painted by Kenneth Forbes, R.C.A. for the OSA exhibition of 1943 and appears in the above-mentioned book.