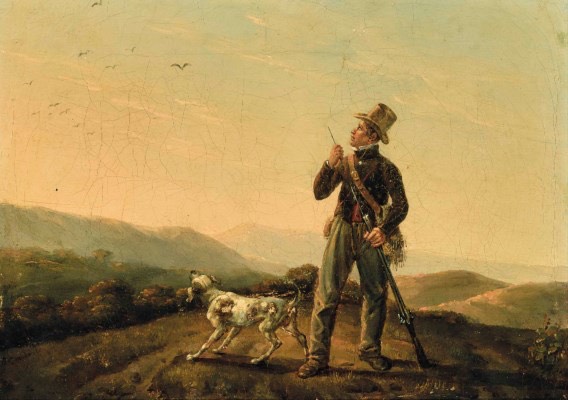 Little is known about J. Grandville. There was a well known artist name J.J. Grandville,but it is not thought that this is the same artist. Will require further reserach. The painting location seems to be the hills of northern England or Scotland.
This painting was sold in June 2017 at Christie's in London as part of the  Five Private Collections.With buyers premium the painting sold for close to $1700 Cdn. You will see from the detail below that the painting came from a presitigious British home. Also, there is a gallery tag on the verso from the Tryon Gallery in London. One of the worlds leading galleries of sporting art.
Details from Christie's website:
Our upcoming sale of English and European furnitureand works of art, porcelain, silver, carpets, antiquities, jewellery, old master paintings, and sporting, maritime and contemporary art.
The auction will offer over 425 lots from: Swinton Grange, North Yorkshire, property from the collection of the Hon. Evelina Rothschild and the Behrens family; Property from a descendant of Captain A S Wills; Property from the collection of William Ward, 4th Earl of Dudley; Property from Stanton Court, Gloucestershire; and Property from a Private Collection in Jersey. Estimates range from £500–80,000.