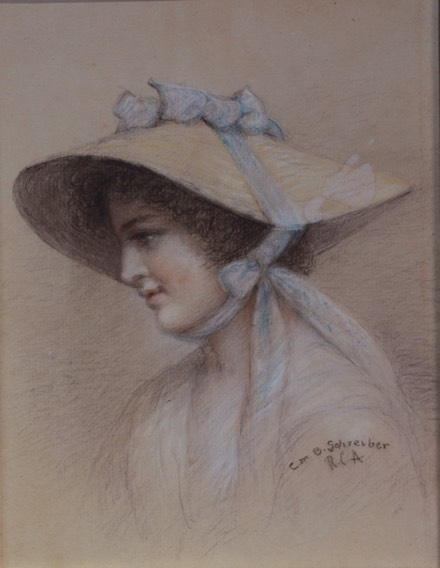 Charlotte Schreiber, née Morrell, was born in Essex, England. She studied at the Mr. Carey's School of Art in London, under John Rogers Herbert, R.A., who specialized in historical paintings and portraits. She also studied anatomy and acquired a great understanding and appreciation for the human form. She is quoted in 1895 as saying
"The human hand, the finger nail, the foot, every portion of the living body, the parts of a flower, are divinely beautiful … it is a joy to paint them as they are in reality". 
After completing her initial art training  she launched her professional career, exhibiting at the Royal Academy at the young age of 21. Subsequently, she received many commissions to illustrate several books living off the successes of these commissions. 
In 1875, she married her cousin Weymouth Schreiber, who had recently lost his wife. She moved to Canada with him and his three children, settling in Toronto. She quickly got involved in the Toronto art scene. In 1876, a year after she emigrated, Schreiber was elected to the Ontario Society of Artists, and the following year, she became the first woman to teach at the Ontario School of Art, where she was also the only woman to serve on the school's council. 
In 1880, Schreiber became a charter member, as well as the first woman to be elected to the Royal Canadian Academy of Arts (RCA) as a full Academician. However, despite this great achievement, she was not permitted to attend meetings or engage in policy-making. In frustrsation she withdrew from the RCA in 1888.  She remained the only full member woman in the academy until 1933 (53 years later), when the second woman, Marion Long, was elected. The National Gallery of Canada holds the painting that she submitted toward her Academy diploma, titled The Croppy Boy (The Confession of an Irish Patriot). 
Schreiber's contributions to Canadian art are immense. She painted scenes of everyday life, and she based her paintings on the things she saw and the people she knew personally. For instance, her painting Springfield on the Credit is based on close observation of children playing in the snow on the banks of the Credit River. Because of her insistence and commitment to realism, Schreiber is often credited with introducing the realist style to Canada. Further.  Her artistic training in England allowed her to carry over European stylistic changes in art to Canada, leading directly to the country's artistic maturity. Schreiber's work epitomized the realist movement through the influence of both neoclassicism and romanticism. This can be seen in her Portrait of Edith Quinn, showcasing the naturalism portrayed in contemporary literature while maintaining a detailed, realistic portrayal of the subject. 
Schreiber was also very generous with her time, providing advice and inspiration to various significant artists and students such as: Ernest Thompson Seton, George A. Reid, Lucius O'Brien and T. Mower Martin, just to name a few. She is said to have been very proud of her students and delighted in their success. 
After a long and successful career in Canada, Schreiber moved back to England in 1898 after the death of her husband, never to show her work in Canada again.
Her notable role as a woman artist with positions on governing bodies helped pave the way for women artists after her. 
She died in Paignton, South Devon, England in 1922. 
Principal exhibitions included the following: 
Paris Salon (under her maiden name, Morrell)
1855-1874, Britain's Royal Academy of Art (under her maiden name, Morrell)
1876, Philadelphia, Sesqui-Centennial Exhibition
1876-1888, Ontario Society of Artists
1880-1898, Royal Canadian Academy
1892, Toronto, Lyceum Club
1893, Chicago Columbian Exhibit
1903, Canadian National Exposition
1967, Toronto, Lyceum Club
1967, Toronto, Erindale College
1985, Toronto, University of Toronto, Erindale Campus Art Gallery