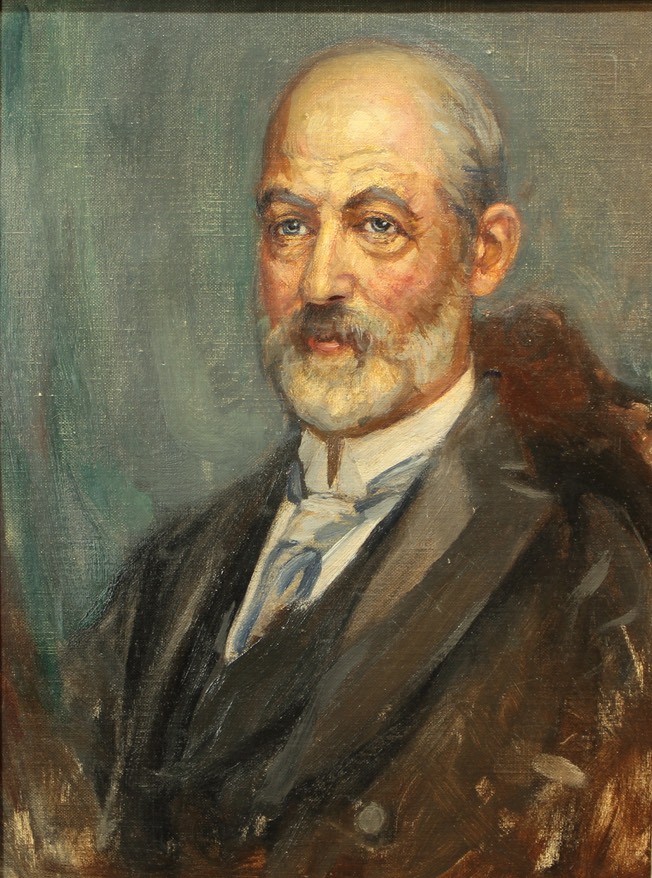 Frederick Challener was born 1869 in Whetstone, England. After moving to Canada, Challener found a position in a Toronto stockbroker's office. His mind was not focused on Stocks and Bonds, however, and he often sketched the crowds outside his office window. He spent his lunch hours in front of a nearby photography studio where Canadian artists regularly exhibited. On seeing his sketches, the owners of the studio sponsored him for enrolment in evening classes at the Ontario School of Art. Within months, teachers advised Challener that he was ready to work as an artist professionally. He got a job as an apprentice to a Toronto lithography company. Artist George A. Reid (who we also have paintings in our collection), recognizing his talent, agreed to give him free instruction in the evenings, eventually being joined by his soon to be long time friend J. W. Jeffery's. By 1890, Challener had held his first solo show at the Royal Canadian Academy. During 1898-99 he travelled overseas to England, Italy, Egypt, Palestine and Syria. While there he was inspired by the variety of murals which were accessible to the public. 
Upon his return home he was strongly motivated to do mural work. With other artists of the same mind he took part in organized efforts to paint murals in public buildings around Toronto. A barn in Conestoga, Ontario, became a studio for his mural work. He completed murals in important buildings across the country such as the King Edward Hotel, Toronto (1900); the Royal Alexandra Theatre, Toronto (1907) ; Royal Alexandra Hotel, Winnipeg. (1909-12); and the MacDonald Hotel, Edmonton (1914). 
In addition to his mural work, he experienced success as an easel painter. He received a Bronze Medal at the Pan American Exhibition in Buffalo for "The Workers of the Fields" which he deposited in the RCA diploma collection in the National Gallery of Canada. His work was generally realistic, romantic and often decorative. Most of his larger paintings were done in oils, while smaller works were often done in watercolour. He favoured wove paper for his drawings, using charcoal and pastel, black chalk or graphite. Several such drawings are housed in the collection of the National Gallery of Canada. 
In addition to his studio and mural work, Challener taught art at the Ontario College of Art from 1927 to 1952. He died in Toronto at the age of 90. His affiliations include the OSA from 1890, ARCA from 1891, and the RCA from1899.
Of special note is the fact that Frederick Challener kept files on many of the famous artists of his time. This collection of files is now held at the Art Gallery of Ontario.