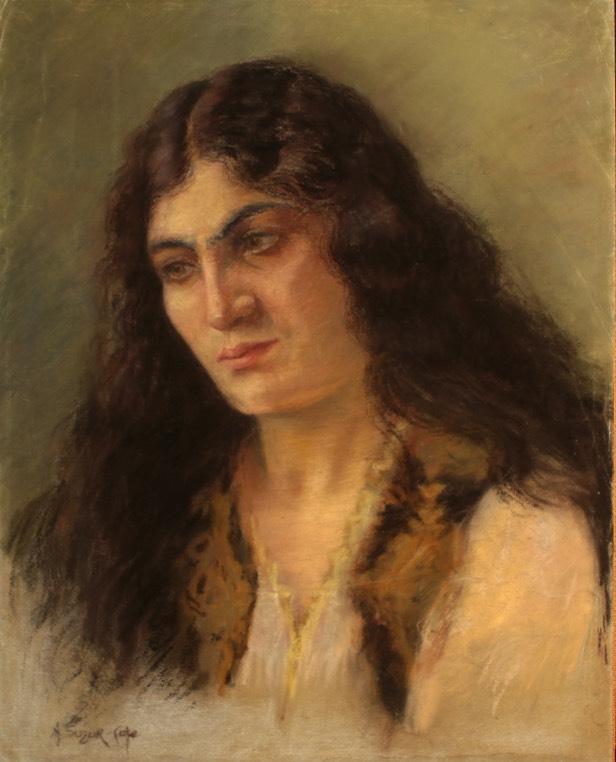 "I have worked hard and applied myself wholeheartedly as a painter can when he loves his art, 
is totally absorbed by it and makes it the purpose of his life." (Suzor-Cote 1901)
Marc-Aurèle de Foy Suzor-Coté was a painter and a sculptor, and church decorator. He is regarded by many as French Canada's most versatile artist. Known for his landscapes of the thawing winter rivers of Arthabaska, his topics also include genre, history, portraits, and the female nude.
Suzor-Coté showed a talent for drawing from an early age. As a young man, he apprenticed with painter-decorator Joseph-Thomas Rousseau. Together, they created intricate decorations in several churches in and around Arthabaska. Looking to further his art education, Suzor-Coté made his first of many trips to France in 1891. He took lessons in rendering the human form at the École des Beaux-Arts and began to sketch the countryside en plein air.
Inspired by French painters like Jean-François Millet, Suzor-Coté began to focus on local farmers in paintings such as Return from the Harvest Field, 1903. He began his sculptural work in 1907, where he continued the theme of daily life, as in Caughnawaga Women, 1924. In 1909, he received a commission to paint the portrait of Sir Wilfred Laurier. Suzor-Coté received many awards and distinctions, including the bronze medal at the 1900 Paris World Fair. He was also a member of the Royal Canadian Academy of Arts. Courtesy the National Gallery of Canada
Biography
Suzor-Cote was born in the small village of Arthabaska Quebec. At a young age he was sent to Paris to study with the famous French artist Léon Bonnat  with the idea of this assisting him to enter the Ècole des beaux-arts, which he did in 1891. 3 years later his paintings were hanging in the prestigious Paris Salon. This was a unique honour for a young foreign painter, and demonstrates his already obvious skills. He returned to Montreal Canada in 1894 where he set up a studio. Subjects included both portraits and landscapes, painted in both oil and pastel. Our painting being in pastel. Suzor-Cote would often entertain at this studio, which resulted in him building a strong list of collectors.

He returned to Paris in 1897 attending the Julian and Colarossi academies. Instructors included Jules-Joseph Lefebvre and Benjamin Constant.
Suzor-Cote showed in the Paris Salon shows from 1898 until 1906, receiving an honourable mention in 1901. He also showed at the World Fair's Canadian pavilion in 1900. Our painting has a stamp of Expositions Universelles 1855-1900. Medaille de Bronze. Papiers, Cartes, Toiles, Anti-Ponce pour le Pastel. Pl. Eq. Paris. Marques Deposee." These stamps relate to prizes awarded to the paper manufacturer at the nineteenth-century Paris Exhibitions.

Suzor-Coté returned to his Quebec home in Arthabaska in 1907. He exhibited various shows across Canada. In 1913, A Year in Canada, a book produced by the Arts and Letters Club includes a write up on Suzor-Cote and his skills as a painter. The book included many of the Group of Seven as well as Tom Thomson.
 In 1909, he was commissioned to paint a portrait of Sir Wilfred Laurier, Canada's Prime Miniter. This was the first in a line of important commissions. Unfortunately the Wilfred Laurier painting was later destroyed in a fire. Suzor-Cote was a member of the RCA (Royal Academy of Art) as well as the Canadian Art Club in Toronto and the Art Association of Montreal.
In 1927, he suffered a serious stroke which left him partially paralyzed and made it much harder for his to work. With the help of his nurse - who would later become his wife, and his brother, Suzor –Cote was still able to have shows at the Jeu de Paume in Paris and Watson Galleries in Montreal in 1927. Two years later, a retrospective was held at the Ècole des beaux-arts in Montreal. In 1933 the new Quebec Provincial Museum opened  and dedicated a room to Quebec artists. Many of the paintings in this room were those of Suzor-Coté. He died in 1937, spending his last years with his new wife in Florida as well as Cuba.