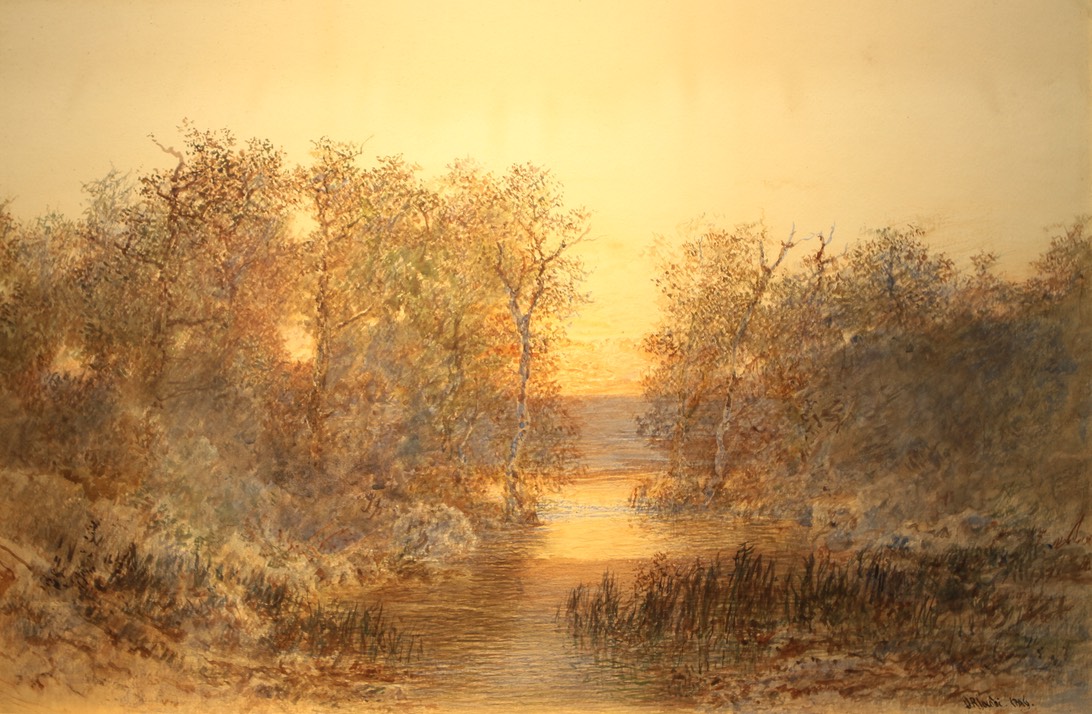 Otto Reinhold Jacobi as born in 1812 in Königsberg (Kaliningrad, Russia).  Jacobi was the youngest of three children of a prominent merchant and malt brewer.
 Jacobi showed skills in art at a very early age. He claimed that he started teaching art in 1822 when he was only 10 years. His father had died that same year. At age 16 he left high school to teach in Königsberg's institute for the deaf and dumb. Two years later, in 1830, financial support from his father's friends permitted him to study at the Berlin Academy of Arts. Jacobi first exhibited in 1930, two years later he won a three-year stipend to attend the academy in Düsseldorf (Germany), one of Europe's most prestigious; where he received instruction from Johann Wilhelm Schirmer. The academy attracted students from far away and may have provided Jacobi his first contact with North America. In the nine years he spent at Düsseldorf he met many North American artists. According to his biographer William Robinson Watson, he met painter Cornelius Krieghoff in 1855, one of Canada's early and most significant painters.
 Jacobi's years in Düsseldorf were very productive. He exhibited in Berlin in 1834, 1836, 1839 as well as Halberstadt in 1836 and Leipzig in 1837, 1839, 1841.
 In 1838 he married Billa, as Jacobi called her. He painted her portrait, dressed in the costume of a Frisian fisherwoman. The Prussian crown prince saw the painting while visiting Düsseldorf and was so impressed that he purchased it for nearly twice the requested price.  This sale led to an appointment in about 1840 to the empress of Russia, a Prussian princess and later to the dowager duchess of Nassau made him the court painter in Wiesbaden, the duchy's capital. For some 20 years he taught art to the children of the ducal household, was conservator of the duke's picture collection, and painted both for the court,
 After the death of the Duchy, Jacobi visited New York in 1860. Soon after he moved to Montreal where he was asked to do a painting of the falls at Shawinigan, near Trois-Rivières, for presentation to the Prince of Wales, who was then visiting the province of Quebec. There is no record of this painting, but knowing how well connected Jacobi was at the time there is no reason not believe the story.
 In 1861 Jacobi's wife and children joined him after receiving financial assistance to do so from the duke of Nassau himself. Records show him moving back and forth between Montreal, Toronto and the Ottawa area.
 In addition to his oils and watercolours Jacobi worked for photographer William Notman, along with John Arthur Fraser, Henry Sandham, and Charles Jones Way, for a time was employed by the photographer William Notman*,
 Homer Watson, a fellow artist, described Jacobi as "a jovial ruddy-faced man, fond of both beer and laughter" as well as courtly and good natured, worked well with his colleagues. Montreal's Society of Canadian Artists was founded in 1867 through his efforts and those of Adolphe Vogt and William Raphael, two other prominent painters of German origin, along with Allan Aaron Edson*, Fraser, Sandham, and Way. Jacobi was a member of the Art Association of Montreal from at least 1865. In 1876 her was admitted to the Ontario Society of Artists in 1876. His recommendation came from artist Lucius Richard O'Brien*. In 1879 he was nominated to be a founding member of what would become the Royal Canadian Academy of Arts. In 1890 he also joined Montreal's Pen and Pencil Club.
 Jacobi exhibited often, including the Art Association of Montreal, the Ontario Society of Artists, and the Royal Academy 16 times, as well as the Upper Canada Provincial Exhibition in London in 1865, at which he won second prize, the Philadelphia Centennial International Exhibition in 1876, the Toronto Industrial Exhibition, the Pennsylvania Academy of the Fine Arts
 Through an invitation in 1877 from artist Thomas Mower Martin* in 1877 he became one of the first teachers at the Ontario School of Art in Toronto. In 1890 he was made the second president of the RCA, which continued for 3 years. Originally artist Robert Harris was offered the position but declined to take it.  Harris said of Jacobi "Then old Jacobi was elected President and I don't think anything in his eighty years of life can have pleased him more. He has the studio next to mine, and his gratification seems to pervade the whole building."
 Robert Harris, who succeeded him in 1893 as president of the RCA, described Jacobi as "the best there is in landscape" and "as much removed from the commonplace as can be."