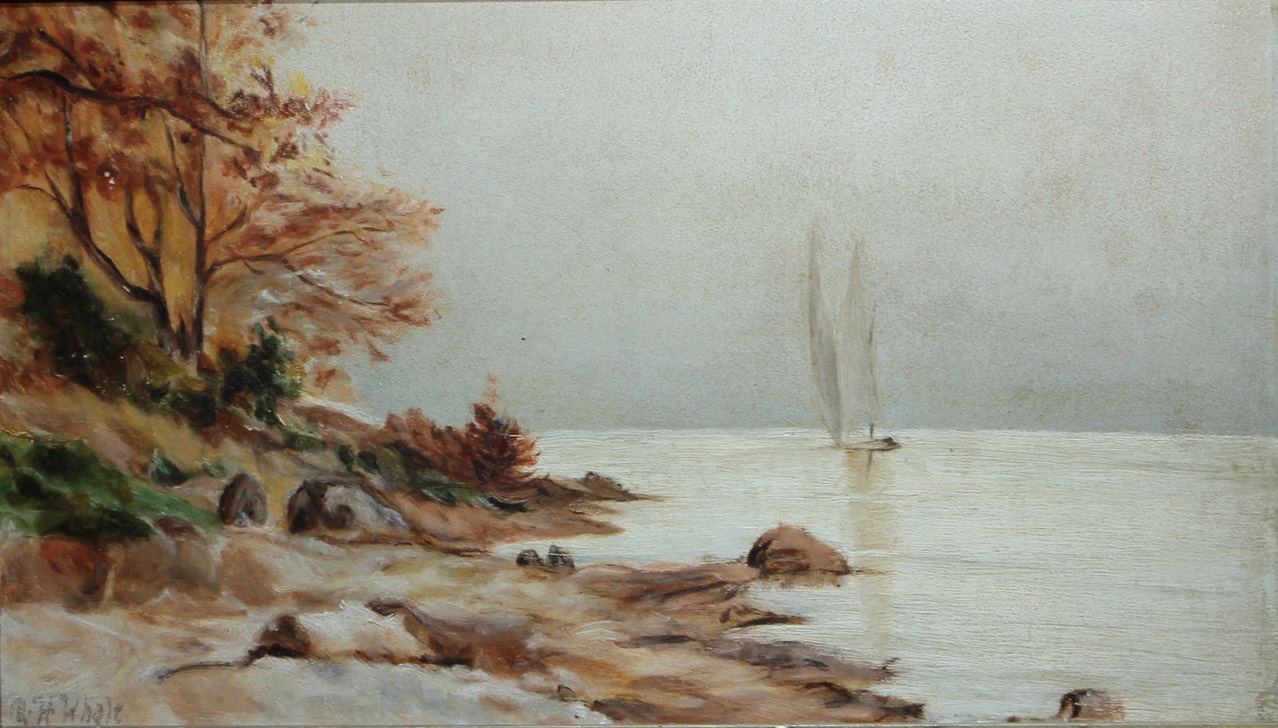 Robert Heard Whale was the son of famous artist Robert Reginald Whale, born in the Cornish village of Altarnun, England, in 1805, and began drawing and painting before the age of 10. Self-taught as an artist, Whale developed his craft by copying paintings of Sir Joshua Reynolds at Lord Saville's House in Oakhampton and through careful study of works in London's National Gallery. In 1837 Whale married Ellen Heard of Bideford, England. The two immigrated with their six children to Canada in 1852, settling in Burford, Ontario. In Canada, Whale became known mainly for his portraits of local residents and for his landscapes of Dundas, Hamilton, Niagara Falls, and other centres in southwestern Ontario. He received honours for several landscapes exhibited at the International Exhibition, London, in 1862, and in 1868 his paintings were included in the Ontario Provincial Exhibition held in Hamilton. Whale joined the Ontario Society of Artists as a charter member in 1872 and exhibited in the group's exhibitions from 1873 to 1882. In 1881 Whale was elected an Associate of the Royal Canadian Academy and contributed works to their exhibitions from 1881 until 1886.
After his wife's death in 1871, Whale accompanied his son, Robert, to England. Returning four years later, Whale moved to Brantford, Ontario, where he worked until his death in July 1887. 
Whale's youngest son, Robert Heard Whale, was born in Burford, Ontario, in 1857. He received his early art training from his father and later studied in London at the Royal Academy and in Paris at the Academie Julien, under Jean-Joseph Benjamin-Constant and William-Adolphe Bouguereau. In 1890, after teaching art in Brantford, Ottawa, and St. Thomas, Robert Heard Whale moved to Capetown, South Africa, where he was appointed art master and technical instructor at the local art school. He died in Capetown in 1909. 
John Hicks Whale, the son of Whale's brother, Thomas, was born in 1829 in Liskeard, England. He came to Canada in the early 1850s and in 1856 married his cousin, Mary, Robert Reginald Whale's daughter. Despite working mainly as a house painter and decorator, John Hicks Whale received prizes for many of the landscapes, portraits, and animal, marine, and historical paintings he presented at local fairs in southern Ontario towns, such as Paris, Brantford, Norwich, and New Durham. John Hicks Whale died in Brantford in 1905.